The end of year holiday season is once again upon us and many kids are wishing for, and parents fretting over, the gift of screens. Whether it's the need for new laptops, tablets or gaming systems the pandemic's increasing timeline continues to boost demand for items that may provide some downtime from both work-from-home and school-from-home for families.
As you are probably seeing in the news, retailers are fighting to meet the demands for PS5 and XBOX Series X systems, The TODAY Show has listed multiple Nintendo Switch products for its annual 'hot gift list', and every streaming service you can imagine now offers a plethora of holiday content to stream on your devices. You may already be asking: how do we balance it all during the craziness of the holidays?
No matter how you manage screen time in your home this year, the general consensus is that quality over quantity is the most important factor in weighing and setting screen time limits. Here are some tips to help you strike a new healthy balance of on and offline activities for your kids this holiday season:
Is this on the naughty or nice list? Although The Office and Belsnickel may ask if you've been 'impish or admirable?', he should probably be asking if the games you are looking at are appropriate and educational. Ensuring content is age appropriate always involves you, as a parent, considering the following questions: "what is the goal of this game and how do you reach it?" Check out ESRB.org or PEGI.info for game descriptions and age ratings or check out Common Sense Media for some recommended lists.
You don't need to be visited by three ghosts to keep your kid from becoming Scrooge.  Kids can get cranky when you tell them time is up with a device.  To help you keep the holidays bright and merry, set rules and use tools to help you.  Come up with rules with your kids, such as when and for how long they will use screens – both during the holidays and after they are over.  And use the tools that you already have to help you.  There are settings and services that come with your home router, security software, and even on specific devices, such as the Screentime feature on your Apple devices. They're also available in apps such as Microsoft Xbox Family Settings for the gamers and TikTok.  However, if possible, you should forego technology in favor of helping your kids learn how to manage screen time on their own. Communicating often and setting a good example can go a long way towards this end.
A Christmas Story may get a 24-hour TV loop, but that doesn't mean you have to watch every time on TBS/TNT. Acknowledge the reality and healthiness of limitations. You know your kid is excited to tear into this gift, and you worked hard to give it to them. However, it is not healthy to be online all the time and there are alternatives for how to spend your time. Science has proven that kids still need at least 8 hours of sleep each night and should engage in healthy physical and social activities.  Make sure that makes up most of their 24 hours in a day.
Smiling may be your favorite, but it doesn't always have to be toward a screen. The hardest gift to accept is that 'not all screen time is equal.' There are 3 types of online time: Time that is necessary (school or work), time that connects us to others (video chats with family or texting friends), and time for relaxation and enjoyment (games, TV, movies). The first is dictated by their school, the second is something you should help with and encourage for your kids, and the third is something to create rules around together. Whenever possible, make the screen time positive – whether to access educational content or watch movies together as a family – and always remind them about good digital citizenship. Make sure online time is spent in safe, kind, and productive ways.
It is inarguable that screens have helped us all through this difficult time, even though those very screens come with their own set of challenges.  Remember, by keeping your children home, you are keeping them and your community safe.  And by allowing them to use screens to learn, stay connected, and bring you together as a family, and teaching them how to keep that screen time healthy, you are teaching them valuable lessons they will use beyond this year.
From all of us here at Trend Micro and the Internet Safety for Kids and Families team, we wish you and yours a happy, healthy and safe holiday season.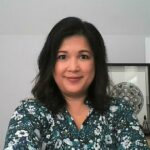 Lynette Owens
Lynette Owens is the Founder and Global Director of Trend Micro's Internet Safety for Kids and Families program. With 20+ years in the tech industry, Lynette speaks and blogs regularly on how to help kids become great digital citizens. She works with communities and 1:1 school districts across the U.S. and around the world to support online safety, digital and media literacy and digital citizenship education. She is a board member of the National Association for Media Literacy Education, an advisory committee member of the Digital Wellness Lab, and serves on the advisory boards of INHOPE and U.S. Safer Internet Day.
Follow her on Twitter @lynettetowens