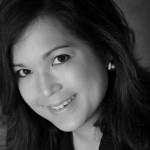 By Lynette Owens
Three years ago, I wrote about my family's experience with the ground-breaking Xbox 360 Kinect.  Despite all the issues outlined, we love it – it's given us countless hours of fun as a family and with friends.  We also have expended a lot of calories because of it.
The decision to invest in any gaming console is not a small one, given the price of the console, the accessories like controllers, the games and any additional services you choose to buy (access to gaming communities, video services like Netflix, etc.); it's not a small investment.  The argument to buy one for your family is weaker if you're going to be sedentary playing it.  But if you splurge for something like the Xbox Kinect sensor and the games specifically designed to go with it, where the only thing you need to do is move your body, then the investment is much more worthwhile.
In addition to cost, there are two other issues to consider: privacy and age-appropriateness of games and Internet content.  Below are some tips on how to manage these on the new Xbox ONE, however, in the end, no matter what settings or technology there are to ensure your kids use technology safely and responsibly, there is no replacement for being an involved parent.
Welcoming the Xbox ONE
When the Xbox ONE was announced, I knew it would improve upon some of the performance issues of the Xbox 360. One major issue we faced was the delay between our physical motion and the game's motion.  We seemed to constantly recalibrate the device to recognize us because it wouldn't move or it would confuse which one of us was in control of the game.
The Xbox ONE also boasts many other home entertainment services that force you to rethink needing any other box sitting beneath your TV, with services such as Netflix, a web browser, music services, etc. (Note: the Xbox ONE console is considerably bigger and more boxy than its predecessor.  So we had to re-arrange the shelves to make room for it.)
We also had heard the Kinect sensor with the Xbox ONE would potentially be monitoring far more than we wanted, but there were powerful benefits to this.  If it was on and you entered the room, it would recognize your face and voice, which seemed as cool as it was creepy.  If my kids are already using it and I later walk in the room, a message pop ups saying "Hi Lynette" when it sees me on screen.  I haven't fully explored the benefits of this yet, but look forward to seeing if it's worth this kind of personal recognition.
Bigger Window to the World
There are many privacy issues to consider with today's gaming consoles, especially those that use motion-sensor technology.  It was and has been a constant battle in my head between the desire for privacy and having a fantastic experience together with my family.
Since most gaming consoles are connected to the Internet and have the ability to share what you're doing with the public through social networking sites or in gaming communities like Xbox LIVE, you need to first be very aware of this then take action to protect your privacy before you start playing.   Make sure you know exactly what you're sharing and with whom you're sharing it.  These consoles have basically opened up a door to your home where you and your kids can see the world, and the world can see you.
As a parent, I knew we wanted to set up different profiles for the different people in our family.  I also knew we didn't want anything shared publicly.  Setting up the device was not difficult.  There is very little paper documentation in the box (like Apple devices) so it walks you through the set-up fairly well.
Managing the privacy settings was a different issue.
Setting Up Profiles for Kids: Half the Answer
In my opinion, the default privacy settings for all users of the Xbox ONE are not very private, even for adults, so spend the time upfront if you really want things kept out of the public eye.  When you set up each player's profile, you have a choice of the type of profile you want (child, teen, adult, custom); under each, you have options on filtering what you see, what you can play, what television shows/movies you watch, what you share with the world, and where you're connected on social media.
We had no problem in setting up profiles for the adults.  But we had a few problems setting up profiles for my kids.
In short, it's a very complicated process that will hopefully be streamlined one day.  The reason it has become more complicated is because of the Children's Online Privacy Protection Act (COPPA), a law which requires any online site to obtain verifiable parent permission before collecting information from kids under 13 years old.  This law was updated in July 2013, just a few months before the Xbox ONE launch.
Microsoft has attempted to comply with COPPA through this profile set-up process, but there are 3 issues you should be prepared to deal with as you go through it:
Issue 1: You need an email address. Every Xbox ONE user profile needs a Microsoft Live account, and you need an email address to open a Live account.  For children under 13, this didn't make sense since they're too young to use most email services.  So we set up email accounts for our kids, but had to enter fictitious birthdays in order to do it.  With an email account, we opened the Live account, and then proceeded to complete their profile.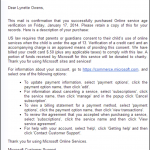 Issue 2: You need access to multiple things to finish the set up.  You'll be jumping back and forth from the Xbox set-up, your credit card, your email inbox, and your Microsoft Live Account in order to set up each child's profile.
Microsoft uses a method which is more likely to ensure an adult is truly involved in allowing the child to have a profile.  It asked us to enter a credit card number and charged us $0.50 to ensure it was a working card.  Again, this is in place as a way to comply with COPPA. (See image of email regarding COPPA credit card charge.)
In theory, this seems like a reasonable request – and not unlike other online sites I've used with my kids.  It's a problem for those who do not have credit cards.  But even if you do, it's quite a lot of juggling.  I bounced between my laptop for email and Microsoft Live account access and the Xbox console controller.
Issue 3:  You're still not done at this point.  Once you've verified that you're the parent, you can finish the child's profile setup.  However, even though you've gone through all these steps, Xbox doesn't take it from there.  It doesn't connect the fact that this profile is for a child.  You still need to do a lot of settings management.  You have the option to choose a profile type (Child, Teen, Adult, Custom).  I chose Child, but even this option did not assume that certain games, movies, TV. shows, music, social networks, or Internet content should be filtered.  The default for Child allows for a lot to be accessed.  Same goes for the content that they might share publicly.
The Best Solution: the Involved Parent
This process was very confusing and time consuming, especially relative to our experience with the Xbox 360.  But I understand why it is imperfect.  The parent hurdle is necessary because of COPPA and the attempt to comply with COPPA wasn't the most elegant, but it's bound to be cumbersome in other places where COPPA has a role.  So I give Microsoft some credit for trying to do the right thing.
There is another issue with technologies that use voice and facial recognition to work.  As I had posted 3 years ago with the Xbox 360, Microsoft is in fact collecting other data about you and your kids, such as a person's skeletal frame, movements, reactions, and other bio-data that is considered to be personally identifying information and therefore subject to COPPA compliance per the updated rules in July.  Microsoft says it collects this, anonymizes it, and sends it to game developers who use it to improve the game experience.   For more on this issue, here's a great post by David Tashroudian about the impact of COPPA on the Kinect.
Despite all of this, it has not stopped my family from enjoying the Xbox ONE together.  If you're considering purchasing one, be prepared to spend lots of time up front on how you want to manage your family's privacy and experience.  Despite any company's good intentions or simply compliance with the law, no technical settings or solutions will ever be able to replace your presence and involvement in how your kids use technology.  Being an informed parent is the best way to make sure your family is safe and your kids are using the Xbox as you had hoped.  And don't pass up the opportunity to have a great time (and expend some calories) using it as a family, too.
Lynette Owens is Founder and Global Director of Trend Micro's Internet Safety for Kids & Families program.  Read more about Lynette or follow her on Twitter @LynetteTOwens

Lynette Owens
Lynette Owens is Vice President of Global Consumer Education & Marketing at Trend Micro and Founder of the Internet Safety for Kids and Families program. With 25+ years in the tech industry, Lynette speaks and blogs regularly on how to help kids become great digital citizens. She works with communities and 1:1 school districts across the U.S. and around the world to support online safety, digital and media literacy and digital citizenship education. She is a board member of the National Association for Media Literacy Education, an advisory committee member of the Digital Wellness Lab, and serves on the advisory boards of INHOPE and U.S. Safer Internet Day.
Follow her on Twitter @lynettetowens.