Fake Notification Spam From Social Networking Sites, iTunes Lead To Online Pharmacy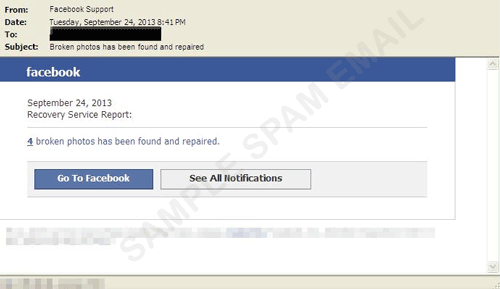 Cybercriminals will always capitalize on the popular and the trusted, and this latest pharmacy spam campaign is no exception. In fact, it proves the theory in spades, as not only does it spoof popular social networking website email notifications such as Facebook and Instagram, it also spoofs iTunes, Google and Fedex!
 The mails, while obviously different in terms of which website they're spoofing, all link to the same online pharmacy website, one that seems to specialize in performance enhancement drugs. 
Users are reminded once more to remain ever vigilant against spam in all its forms; that to click the links inside one can lead to fraudulent websites such as these, or worse, to malicious sites that actually host malware. 
 All the spammed mails and their variants, along with their embedded URLs and all other elements related to this spam campaign is detected and blocked by the Trend Micro™ Smart Protection Network™.
SPAM BLOCKING DATE / TIME:
September 25, 2013 GMT-8