Security for Entertainment IoT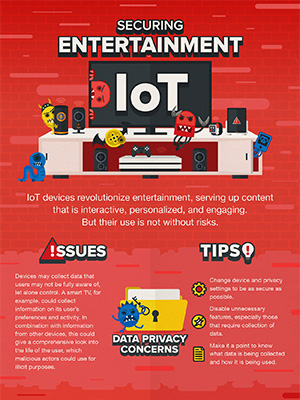 View Infographic: Security for Entertainment IoT
How many devices around you are connected to the internet? Perhaps you have a TV that streams your favorite shows and movies, a voice-activated speaker at your beck and call, and even a game console featuring virtual-reality technology. Such devices are manifestations of the capabilities of the internet of things (IoT). Indeed, the IoT has revolutionized — among many other industries — media and entertainment, as most tellingly seen and experienced at home.
Thanks to the power of the IoT, entertainment is now not only personalized but also more accessible than ever before. Sophisticated sensors help devices listen to, detect, and otherwise pick up commands and other factors, so that media content can be more engaging and interactive even within the confines of a living room. This is a more than welcome development especially in a time when most people are sheltered in place and media consumption indoors is the best and often only option.
As convenient as these entertainment IoT devices are, though, users should not be distracted from the risks these devices could bring to their homes. A hacked device, for example, could allow malicious actors to steal sensitive information, infect other devices on the network, or use sensors to monitor activities within the household. Users would therefore be well served to secure their IoT environments, so as to be able to fully enjoy the benefits of these devices.
With additional insights from Vit Sembera.
HIDE

Like it? Add this infographic to your site:
1. Click on the box below. 2. Press Ctrl+A to select all. 3. Press Ctrl+C to copy. 4. Paste the code into your page (Ctrl+V).
Image will appear the same size as you see above.