Malware in Spammed Attachments Distributed by Cutwail and ZeuS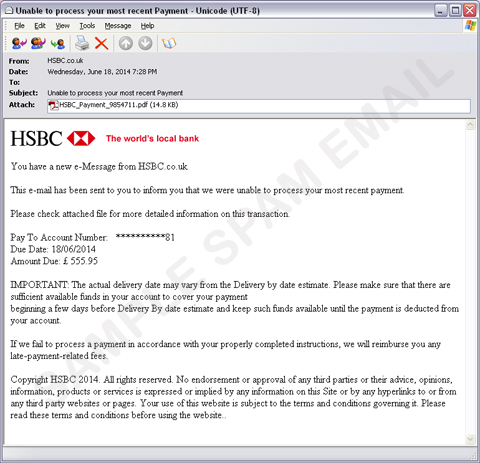 While malware attachments in spammed messages are not new, however we continue to find spam with malware attachments. In our research, we encountered spammed email spoofing companies like HSBC and XEROX. In these spammed messages, the recipients are required to open the attached PDF files, purportedly for details of a supposed transaction. However, the PDF attachments are malware. Further analysis shows that these spammed messages are distributed by botnets also distributing malware such as Cutwail and ZeuS malware.
Trend Micro product users are protected from these threats by Smart Protection Network technology. We recommend to never open attachments especially from unverified senders.
SPAM BLOCKING DATE / TIME:
June 19, 2014 GMT-8