Fraudulent NBA ALL STAR 2013 Poll Invites Lead to Malware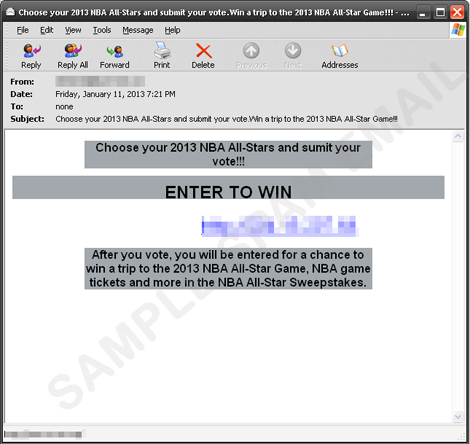 As creatures of habit, cybercriminals have become predictable when it comes to their social engineering tactics. They tend to leverage newsworthy items like calamities, celebrity news, and upcoming events.
Just recently, we spotted a spammed message that rides on the upcoming NBA All-Star 2013 event,to be held in February 17. It bore the subject, Choose your 2013 NBA All-Stars and submit your vote. Win a trip to the 2013 NBA All-Star Game!!!. It then asks unsuspecting users to click on the link to vote. After voting, they are given a chance to win an exciting package that includes a tour, free NBA tickets, and many more. What users don't know is that clicking the link will just load a .JAR file that downloads a malware. Trend Micro detects the downloaded malware as TROJ_KRYPTIK.BMP.
Users are advised to remain vigilant against bogus too-good to be true offers because chances are, they are not legitimate. It is also recommended for users to verify first the legitimacy of any similar email message by visiting the NBA website.
SPAM BLOCKING DATE / TIME:
January 12, 2013 GMT-8