Spoofed CNN Email Claims to Contain Exclusive Document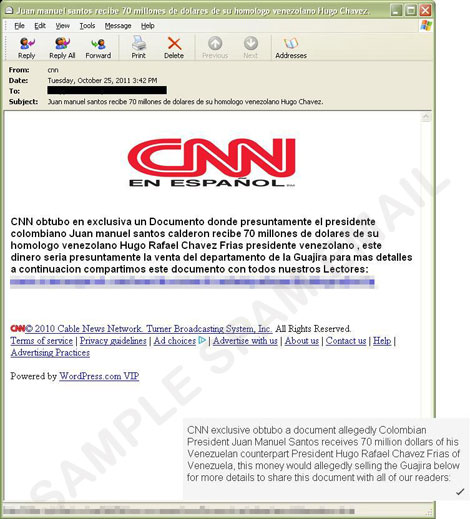 Trend Micro researchers received samples of email messages that spoof CNN and claim to have an exclusive document from Colombian President Juan Manuel Santos Calderon. Written in Spanish, the messages claim that this document is proof that President Calderon received money from Venezuelan President Hugo Rafael Chavez, supposedly to be used in buying the Guajira Peninsula in Colombia. The message provides a link where the document may be downloaded. Recipients who download this document actually download a TROJ_DLODER variant, rather than the supposed document.
Users are advised to visit reputable news sites for any late-breaking news or updates. They are also advised not to open emails from unknown sources.
SPAM BLOCKING DATE / TIME:
October 26, 2011 GMT-8