Email Scam Takes Advantage of Gadhafi's Death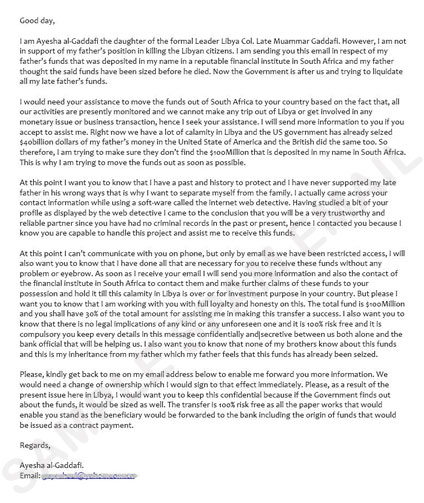 TrendLabs received a sample of another spam variant that leverages the death of former Libyan leader Muammar Gadhafi. It claims to be from Ayesha al-Gadhafi, daughter of the former Libyan leader. The body of the message is in plain text but the noteworthy part is the .PDF attachment. This document claims that Ayesha is looking for someone to help her transfer funds amounting to $100 million. If not transferred immediately, the money may be seized by the Libyan government. Those who wish to help her may claim 30 percent (30%) of the said amount.
The amount of money supposedly being offered by the sender might seem like a great reward for one transaction. However, users should know that this is just another scam that simply took advantage of current events. Users are advised from opening messages from unknown senders.
SPAM BLOCKING DATE / TIME:
October 25, 2011 GMT-8