Facebook Lottery Scam Found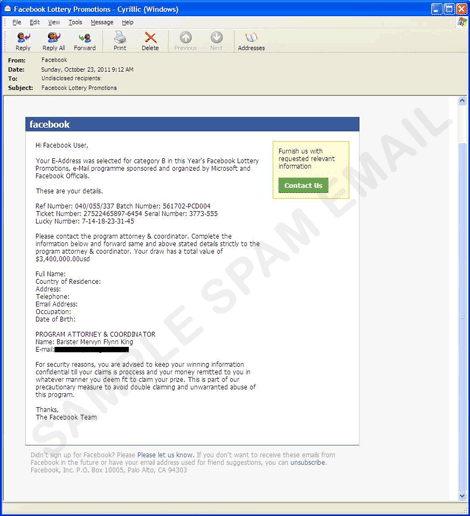 A new spam run using Facebook's name is on the loose. It bears the subject Facebook Lottery Promotions and informs users their email address was selected for the supposed 'Facebook Lottery Promotion.' The message instructs the recipients to provide information such as their names, email addresses, telephone numbers, social security numbers, and dates of birth. To make it look legitimate, it even spoofs the Facebook notification and uses the name Facebook as the sender. The message also advises users to keep their 'winnings' confidential.
Some Facebook-related spammed messages contain a link that redirects users to downloading malware. However, in this particular spam attack, cybercriminals simply spoofed the Facebook notification for scam purposes. Social networking sites have become so popular that most users wouldn't bat an eye should they receive notification emails from these sites. However, users should still be critical about the content of such emails in case they turn out to be spam, such as this particular message. They also shouldn't freely share sensitive information, such as social security numbers, online.
SPAM BLOCKING DATE / TIME:
October 24, 2011 GMT-8