2021 TMIE Virtual Cybersecurity Summit for University Students
Trend Micro Initiaitve for Education (TMIE) invites you to join our free cybersecurity career summit.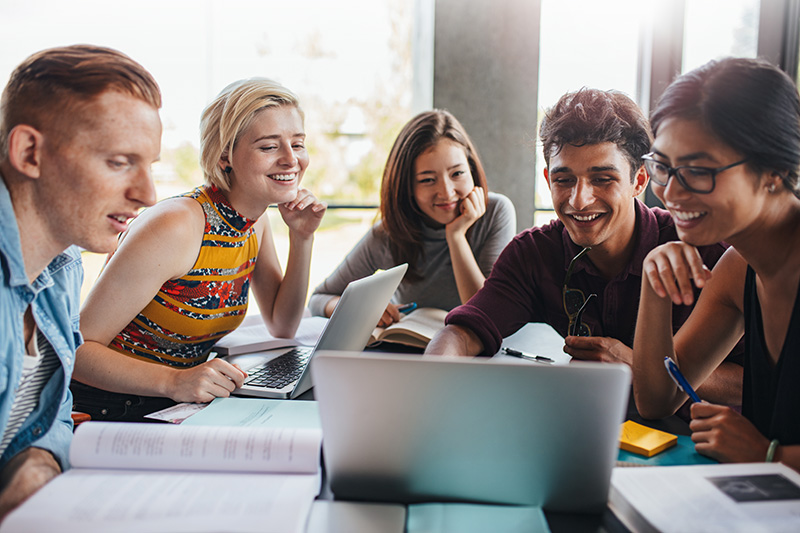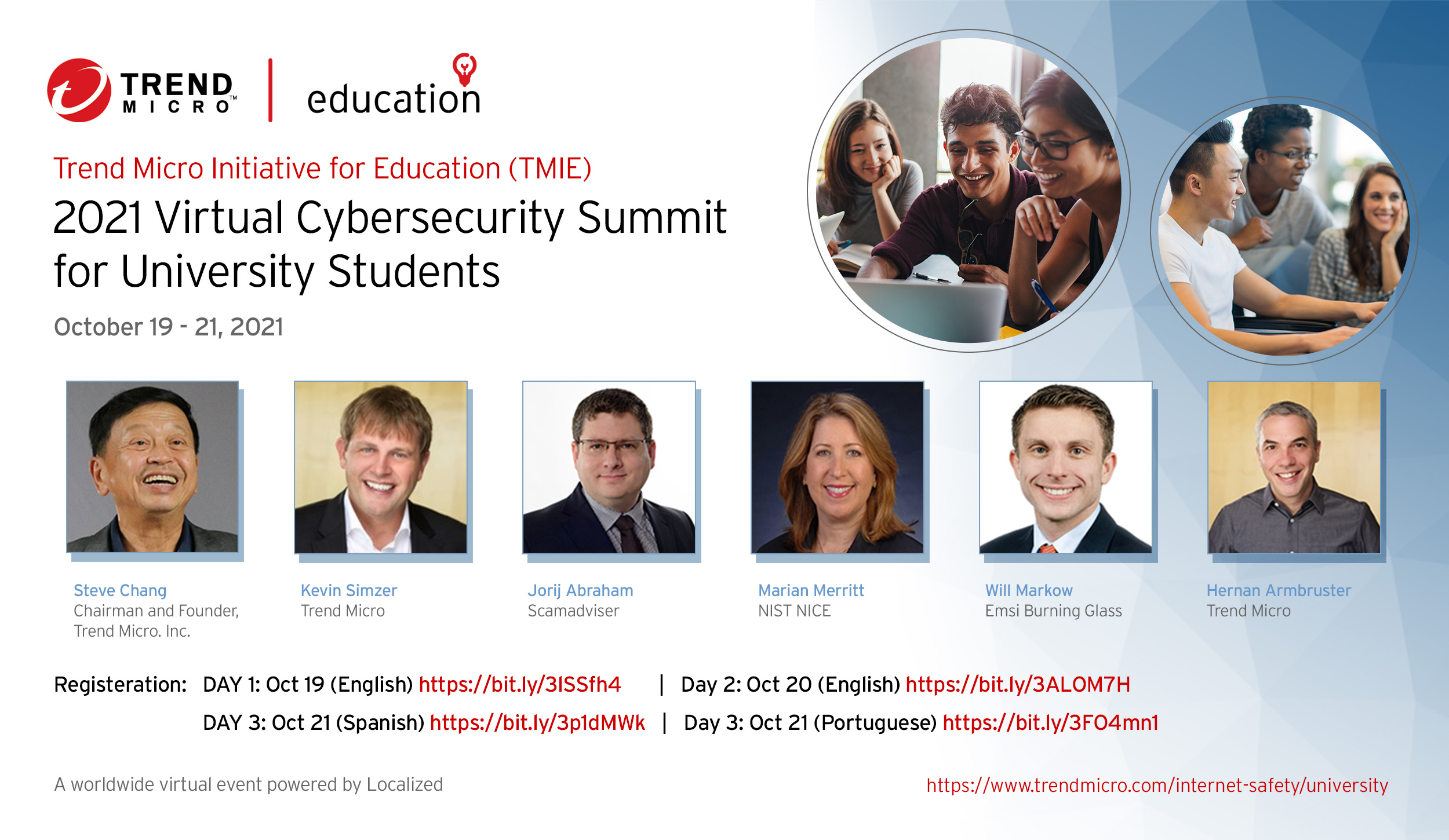 Objectives
The TMIE Virtual Cybersecurity Summit for University Students is organized and sponsored by Trend Micro Initiative for Education (TMIE) - a community cybersecurity education outreach program. Our goal is to initiate cybersecurity knowledge sharing and stumlate students' interest in cybersecurity careers in collaboration with TMIE and leading universities. The Summit coincides with the NIST NICE Cybersecurity Career Awareness Week.
Audience
College students, faculty members, and cybersecurity professionals
Event Host and Partners
Trend Micro Initiaitve for Education (TMIE) will be the host with the support from over 100 nonprofit, education, university, and Localized's partners around the world.
Participating Organizations
NIST National Initiative for Cybersecurity Education, Cybercrime Support Network (CSN), National Cybersecurity Alliances (NCSA), San Jose University, University of West Florida, Florida International University, University of California at Davis, University of Dallas, University of Texas at Dallas, York University, Seneca College, and many more.
Kevin Simzer
Chief Operating Officer, Trend Micro
As COO, Kevin is responsible for all field operations including global sales, marketing, business development, strategic alliances and corporate development.
Kevin has held a variety of roles since joining Trend Micro including CMO, Global Alliances and Corporate Development & Strategy. Prior to joining Trend Micro, Kevin held a number of executive positions including COO, General Manager, Chief Marketing Officer and VP Engineering for security pioneer Entrust (now Entrust-Datacard) where he was part of the founding team.
Before starting Entrust, Kevin began his career working in several product development positions while at Nortel in engineering, developing next generation networking technology. Kevin has held a number of board positions with Entrust, the Queen's University High Performance Computing Virtual Laboratory, and has also served on the board of Certes Networks, an innovative cloud network security specialist.
Kevin completed his undergrad in computer engineering and earned a master's degree in business administration from Queen's University in Kingston, Ontario, Canada.
---
Jorij Abraham
Chief Executive Officer, Scamadviser
Jorij Abraham has been part of the international eCommerce community since 1997. He has been manager e-commerce at Bijenkorf (an upmarket department store chain), TUI (Europe's largest travel organization), online publisher at Sanoma Media (the largest media company in the Benelux) and Director of Consulting as Unic (an Europe wide e-commerce strategy & implementation firm). In parallel to these activities he (fellow) founded two companies, eVentures Europe and vZine.
From 2013 – 2017 he has been Director of Research & Advise at Thuiswinkel.org (the Dutch Ecommerce Association) and Ecommerce Europe (the European Ecommerce Association with 25.000+ members in 20 countries). He now is Managing Director of the Ecommerce Foundation, whose mission is to foster global digital trade and Scamadviser.com, the global blacklist for malicious websites. He is also e-commerce professor at the University of Applies Sciences, TIO.
---
Marian Merritt
Deputy Director, U.S. National Initiative for Cybersecurity Education (NICE)
Marian Merritt is the Lead for Industry Engagement for the National Initiative for Cybersecurity Education (NICE) at the National Institute of Standards and Technology (NIST)/ U.S. Department of Commerce. Marian has over 20 years of experience working in the cybersecurity industry, with experience in product management, corporate website management, family online safety programs and corporate philanthropy. She previously was with Symantec Corporation as their Director of Cyber Education and Online Safety Programs. Marian attended Boston University's Questrom School of Business for her undergraduate degree and holds an MBA from the Wharton School at the University of Pennsylvania.
---
Will Markow
Managing Director, Burning Glass Technologies
Will Markow is the Vice President of Applied Research – Talent at EMSI Burning Glass where he oversees a research and consulting team focused on strategic workforce planning and the impact of emerging technologies on the workforce. Will's research with Burning Glass is routinely featured in national media outlets, and he has overseen dozens of custom research projects for Fortune 100 companies, technology vendors, training providers, workforce development organizations, and government agencies. He has also advised multiple White House administrations on key issues related to the future of work.
Will is also a frequently cited commentator on the cybersecurity talent shortage and, in partnership with CompTIA and the National Initiative for Cybersecurity Education, leads the development of CyberSeek, an interactive online tool providing definitive data on the cybersecurity workforce across the United States.
Prior to joining Burning Glass, Will worked in the energy industry leading original research for public policy organizations and clean technology startups. Will holds a degree in economics and math from Bentley University, where he graduated with highest honors.
---
Hernan Arbruster
Senior Vice President, Americas
Hernán is responsible for Trend Micro business in the Americas region, encompassing the US, Latin America, Caribbean and Canada, and is part of the global team responsible for sales of strategic products.
Hernán has been with the company for over 20 years, beginning his career as the head of technical support services for Argentina then Latin America, before progressing to become country manager for Brazil and Mexico, and subsequently director of operations for Canada, Latin America and Caribbean.
Hernán has an MBA from IBMEC University in Brazil, has completed the Executive Program from the Smith School of Business at Queens University in Canada, and has a Bachelor of Computer Science degree from Universidad Centro de Altos Estudios en Ciencias Exactas, in Argentina.
In April, 2017, Hernán was named one of the Top 50 Influential Hispanic Leaders in Latin America/Ibero America by the Hispanic IT Executive Council (HITEC). He and his colleagues also work closely with law enforcement officials investigating cybercrime by providing intelligence and training that improve these law officers' ability to solve cases. And, he's helped lead a number of Trend Micro new training initiatives designed to help address the cybersecurity skills shortage by developing young talent in Africa, Middle East, Latin America, Canada and the US.
In November, 2018, Hernán was one of the winners of the SANS 2018 Difference Makers Awards. The Difference Makers Awards were created to honor the unsung heroes in cyber security whose innovation, skill, and hard work have resulted in real successes in information security.
Armbruster led Trend Micro's efforts to work with the Organization of American States (OAS) to create the OAS Cyberwomen Challenge event series with focus on developing cyber security skills in women who are new to the field or want to expand their skillset.
As of October 13, 2021
October 19, 2021 (US EDT / GMT -5)
8:00 am
9:00 am

Kevin Simzer, COO, Trend Micro (30 min)
Jorij Abraham, CEO, Scamadviser (30 min)

10:10 am

VIP Panel – Cybersecurity Challenges and Career Opportunities

William Malik, VP of Enterprise Infrastructure and Strategies, Trend Micro
Lisa Plaggemier, Executive Director, National Cyber Security Alliance (NCSA)
Dr. Anthony Chow, Professor, San Jose State University

Moderated by: Salih Tamim, Events & Community Manager, Localized

11:20 am

Cybersecurity: Technical and Human Factor

Cybersecurity research program
Dr. Selcuk Uluagac, Florida International University (30 min)
The Interdisciplinary Future of Cybersecurity Work
Dr. David Schuster, San Jose State University (30 min)

12:30 pm

Diversity, Equity, and Inclusion @Trend Micro – Be Your True Self

Cyril Lim, Senior Director of TrendLabs, Trend Micro
Tina Honore'-McGaskey, Director of Diversity for Girls in Tech Dallas and Manager, Customer Experience Team, Trend Micro, Inc.
Sharda Tickoo, Technical Function Head at Trend Micro, India
Hederlyn Martinez, Technical Associate, Trend Micro, Inc.

1:40 pm

Day 1 Closing
As of October 13, 2021
October 20, 2021 (US EDT / GMT -5)
8:00 am
9:00 am

Marian Merritt, Deputy Director, U.S. National Initiative for Cybersecurity Education (NICE)
Jorij Will Markow, Managing Director, Emsi Burning Glass Technologies

10:10 am

Special VIP Interview with Steve Chang

From Floppy Disks to Killer Robots: The History and Future of Cybersecurity

Steve Chang co-founded Trend Micro Inc back in 1988 out of an office/garage when www.antivirus.com was still available and computer viruses went viral only through something called a floppy disk.

Join this conversation as Steve reflects on the past 30 years of cybersecurity evolution and what the next 30 might entail. Killer robots not included.

10:50 am

Cybersecurity Education and Awareness Presentations

See Yourself in a Cybersecurity Journey (30 min)
Lydia Chan, International Programs, San Jose State University (30 min)
Global Threat Landscape Update (30 min)
Jon Clay, VP of Global Threat Communication, Trend Micro
Create your Future: Cybersecurity Education and Career Opportunities (30 min)
Dr. Eman El-Sheikh, Associate Vice President and Professor, Center for Cybersecurity, University of West Florida

12:30 pm

VIP Panel – Cybersecurity Challenges and Career Opportunities

Ed Cabrera, Chief Cybersecurity Officer, Trend Micro
Stacey Wright, VP of Cyber Resiliency Services, Cybercrime Support Network
Brian Kelly, Director of Cybersecurity Program, EDUCAUSE
Anthony Pinto, Professor, University of West Florida

Moderated by: Zarmeena Waseem, Director, National Cyber Security Alliance

1:40p pm

Day 2 Closing
As of October 13, 2021
October 21, 2021 (Brazil / GMT -3) – Spanish and Portuguese only
6:00 pm

Networking – Ask the Experts – Spanish

7:00 pm

Hernan Armbruster, VP of Americas, Trend Micro
(30 mins. in Spanish, 30 mins. in Portuguese)

8:10 pm

VIP Panel Discussion
Technology and Career presentations

8:10 pm

VIP Panel Discussion
Technology and Career presentations

9:40 pm

Closing Remarks
Contact Us
For inquiries about Cybersecurity Education for Universities, if you are interested in partnering with us, or if you belong to a school or an organization that would benefit from cybersecurity enablement workshops, contact us at csr_education@trendmicro.com.
---