2021 TMIE Virtual Cybersecurity Summit for University Students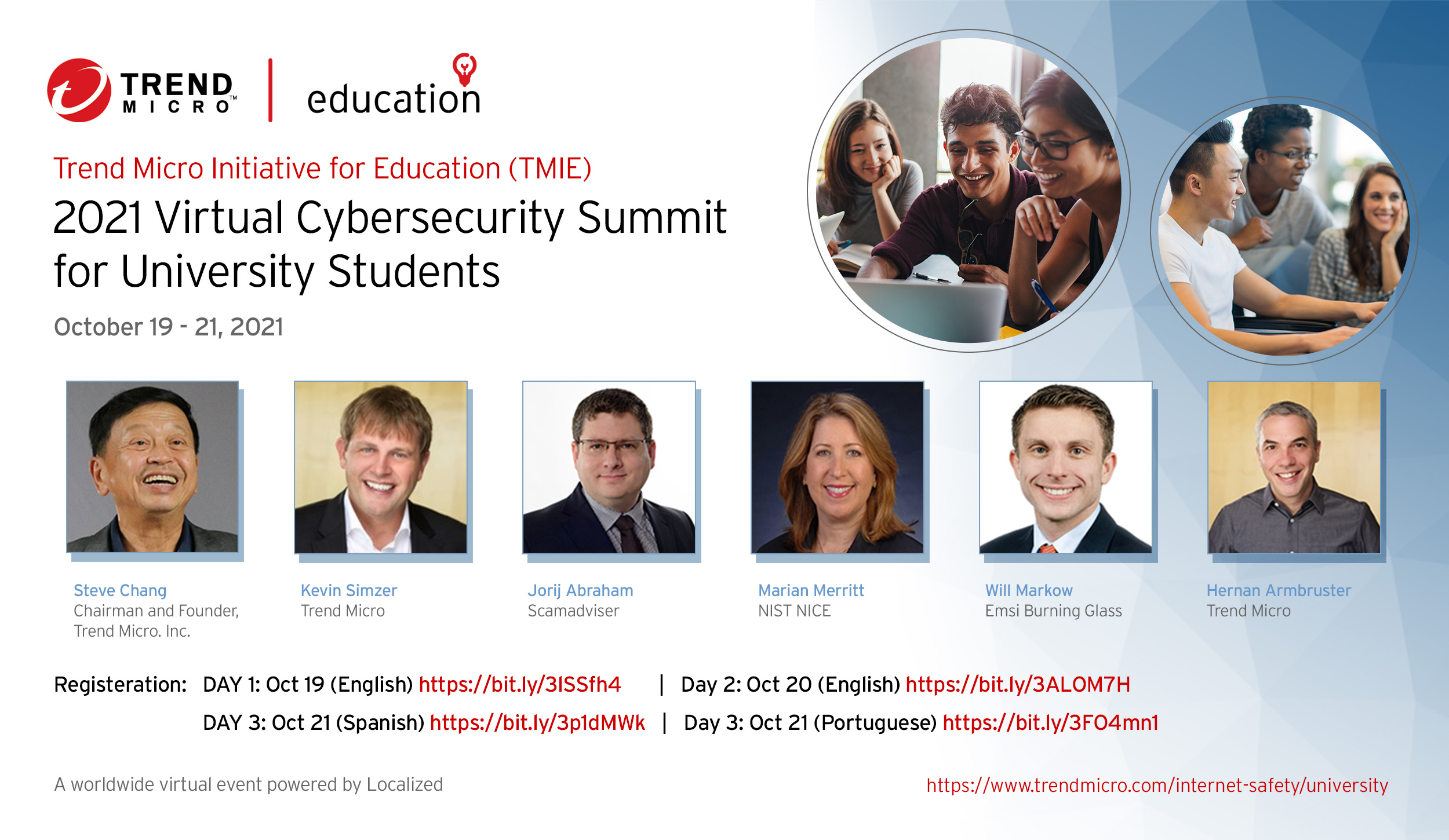 Thank you for joining our 2021 Summit. We hope you got inspired by our guest speakers in pursuing a career in cybersecurity! Recordings of the sessions are now available.
Day 3 - Spanish & Portuguese
Steve Chang
Chairman and Founder, Trend Micro
Recognizing the threat of computer viruses, Chang formed Trend Micro in California in 1988 with the mission of developing antivirus software for personal computers. As local networks proliferated and the Internet matured, the company's focus evolved to address antivirus and content security software and services.
Chang's management style and vision have resulted in innovative and timely antivirus strategies that have been recognized in industry-leading publications. He was named one of Asia's "25 Movers and Shakers" in 2001 by ZDNet Asia. Fortune Magazine has called him a "global force," and he was twice chosen for Business Week's "Stars of Asia" award, recognizing fifty Asian leaders at the forefront of change. Chang was named "Innovator of the Year" in 2004 by Asia Business Leader Awards and received the Lifetime Achievement Award in the 8th Asian Business Leaders Awards hosted by TV business news channel CNBC in Singapore on November 26, 2009.
Prior to launching Trend Micro, Chang worked as an engineer at Hewlett-Packard and later founded AsiaTek, Inc., a Taiwan-based UNIX software design company. Chang holds a Bachelor of Science in applied mathematics from Fu-Jen Catholic University in Taiwan and a master's degree in computer science from Lehigh University, Pennsylvania.
---
Jonathan Chang
Partner, Trend Forward Capital
With a foundation in psychology and years of brand marketing experience, Jonathan brings to his investments a deep curiosity to better understand customer behavior. As the founding CEO of his own company, Jonathan learned that the road to entrepreneurial success requires trial-and-error. He believes that a transparent, open, and collaborative partnership – where both parties can voice their ideas (no matter how seemingly ridiculous) – is the first step to figuring it all out.
Kevin Simzer
Chief Operating Officer, Trend Micro
As COO, Kevin is responsible for all field operations including global sales, marketing, business development, strategic alliances and corporate development.
Kevin has held a variety of roles since joining Trend Micro including CMO, Global Alliances and Corporate Development & Strategy. Prior to joining Trend Micro, Kevin held a number of executive positions including COO, General Manager, Chief Marketing Officer and VP Engineering for security pioneer Entrust (now Entrust-Datacard) where he was part of the founding team.
Before starting Entrust, Kevin began his career working in several product development positions while at Nortel in engineering, developing next generation networking technology. Kevin has held a number of board positions with Entrust, the Queen's University High Performance Computing Virtual Laboratory, and has also served on the board of Certes Networks, an innovative cloud network security specialist.
Kevin completed his undergrad in computer engineering and earned a master's degree in business administration from Queen's University in Kingston, Ontario, Canada.
---
Jorij Abraham
Chief Executive Officer, Scamadviser
Jorij Abraham has been part of the international eCommerce community since 1997. He has been manager e-commerce at Bijenkorf (an upmarket department store chain), TUI (Europe's largest travel organization), online publisher at Sanoma Media (the largest media company in the Benelux) and Director of Consulting as Unic (an Europe wide e-commerce strategy & implementation firm). In parallel to these activities he (fellow) founded two companies, eVentures Europe and vZine.
From 2013 – 2017 he has been Director of Research & Advise at Thuiswinkel.org (the Dutch Ecommerce Association) and Ecommerce Europe (the European Ecommerce Association with 25.000+ members in 20 countries). He now is Managing Director of the Ecommerce Foundation, whose mission is to foster global digital trade and Scamadviser.com, the global blacklist for malicious websites. He is also e-commerce professor at the University of Applies Sciences, TIO.
---
Marian Merritt
Deputy Director, U.S. National Initiative for Cybersecurity Education (NICE)
Marian Merritt is the Lead for Industry Engagement for the National Initiative for Cybersecurity Education (NICE) at the National Institute of Standards and Technology (NIST)/ U.S. Department of Commerce. Marian has over 20 years of experience working in the cybersecurity industry, with experience in product management, corporate website management, family online safety programs and corporate philanthropy. She previously was with Symantec Corporation as their Director of Cyber Education and Online Safety Programs. Marian attended Boston University's Questrom School of Business for her undergraduate degree and holds an MBA from the Wharton School at the University of Pennsylvania.
---
Will Markow
Managing Director, Burning Glass Technologies
Will Markow is the Vice President of Applied Research – Talent at EMSI Burning Glass where he oversees a research and consulting team focused on strategic workforce planning and the impact of emerging technologies on the workforce. Will's research with Burning Glass is routinely featured in national media outlets, and he has overseen dozens of custom research projects for Fortune 100 companies, technology vendors, training providers, workforce development organizations, and government agencies. He has also advised multiple White House administrations on key issues related to the future of work.
Will is also a frequently cited commentator on the cybersecurity talent shortage and, in partnership with CompTIA and the National Initiative for Cybersecurity Education, leads the development of CyberSeek, an interactive online tool providing definitive data on the cybersecurity workforce across the United States.
Prior to joining Burning Glass, Will worked in the energy industry leading original research for public policy organizations and clean technology startups. Will holds a degree in economics and math from Bentley University, where he graduated with highest honors.
---
Hernan Arbruster
Senior Vice President, Americas, Trend Micro
Hernán is responsible for Trend Micro business in the Americas region, encompassing the US, Latin America, Caribbean and Canada, and is part of the global team responsible for sales of strategic products.
Hernán has been with the company for over 20 years, beginning his career as the head of technical support services for Argentina then Latin America, before progressing to become country manager for Brazil and Mexico, and subsequently director of operations for Canada, Latin America and Caribbean.
Hernán has an MBA from IBMEC University in Brazil, has completed the Executive Program from the Smith School of Business at Queens University in Canada, and has a Bachelor of Computer Science degree from Universidad Centro de Altos Estudios en Ciencias Exactas, in Argentina.
In April, 2017, Hernán was named one of the Top 50 Influential Hispanic Leaders in Latin America/Ibero America by the Hispanic IT Executive Council (HITEC). He and his colleagues also work closely with law enforcement officials investigating cybercrime by providing intelligence and training that improve these law officers' ability to solve cases. And, he's helped lead a number of Trend Micro new training initiatives designed to help address the cybersecurity skills shortage by developing young talent in Africa, Middle East, Latin America, Canada and the US.
In November, 2018, Hernán was one of the winners of the SANS 2018 Difference Makers Awards. The Difference Makers Awards were created to honor the unsung heroes in cyber security whose innovation, skill, and hard work have resulted in real successes in information security.
Armbruster led Trend Micro's efforts to work with the Organization of American States (OAS) to create the OAS Cyberwomen Challenge event series with focus on developing cyber security skills in women who are new to the field or want to expand their skillset.
Cybersecurity Challenges and Career Opportunities
William Malik
VP of Enterprise Infrastructure and Strategies, Trend Micro
Bill Malik's information technology career spans over four decades. Before joining Trend Micro, he was CTO of Waveset, an Identity Management vendor, from 2002 through its acquisition by Sun. Bill worked at Gartner for twelve years where he led the Information Security service and the Application Integration and Middleware service. He was a co-author of the Cobit version 3 standard. During his 12-year career at IBM he worked in MVS development, testing, and business planning. Bill started programming with the John Hancock Insurance company in 1974 and he studied Mathematics at MIT.
---
Lisa Plaggemier
Executive Director, National Cyber Security Alliance (NCSA)
Lisa Plaggemier is Interim Executive Director at the National Cyber Security Alliance. Lisa is a trailblazer in security awareness and education, and is a prominent security influencer with a proven track record of engaging and empowering businesses and their employees to protect themselves and their data.
Lisa has held executive roles with the Ford Motor Company, CDK Global, InfoSec and MediaPRO, and is a frequent speaker at major events including RSA, Gartner and SANS. She is a University of Michigan graduate (Go Blue!) and while she wasn't born in Austin, Texas, she got there as fast as she could.
---
Dr. Anthony Chow
San Jose State University (Director of iSchool)
Dr. Chow is the Director of San Jose State University's School of Information, which is the largest iSchool and LIS program in the nation. His doctorate is in instructional systems design (ISD) and his master's is in educational psychology with a focus on human cognition and learning. Currently Dr. Chow is working on a $1.4 million early children's literacy grant studying and building community networks that support access to literacy resources and libraries in five tribal nations. Other areas of expertise include technology integration, instructional technology, eLearning, strategic planning and community assessment, and the use of informatics and analytics to assess and inform overall system efficiency and effectiveness.
---
Kazuo Noguchi
Senior Researcher, Keio University, and Executive Director, INCS-CoE
Kazuo Noguchi is a Senior Researcher at Keio Research Institute at SFC, Keio University and Sr. Manager in R&D at Hitachi America, Ltd. In July 2019, he became the Executive Director of International Cyber Security Center of Excellence (INCS-CoE). He has facilitated workshops, panel discussions, started a Chair with British, U.S., and Japanese representatives hosted by OASIS at the World Bank in Washington DC.
In 2016, He spearheaded the initiative of the INCS-CoE, organizing an international alliance with the U.S. and British governments, companies, and universities. The projects involved are international research, policy and educational activities including Country2Country Capture the Flag (C2C CTF) 5-year plan, JST-NSF related international researches, Trusted AI, and Trilateral Commission activities and Mutual Recognitions of Trust Services in the U.S., Japan, and EU, MCAC (Multilateral Cybersecurity Action Committee).
He is a seasoned strategy and management consultant with over 30 years of experiences in the industry in the U.S., Canada, and Japan. His expertise includes policy and technology analysis in Global Supply Chain, 5G, Information Sharing and Analytics in Cybersecurity, devising and executing IT strategies, post-merger integration, and project management. He joined Hitachi Group in 2002 as Chief Consultant and Business Development Manager, initiating M&A and alliance strategies to the Hitachi board, focusing on financial institutions.
Prior to joining Hitachi, he was a Manager at KPMG at the New York office. He managed market entry projects in the financial services industry, such as porting products, services, and processes of the U.S. version of 401(k) to Japanese version of 401(k), leading the team of KPMG consultants and IBM subject matter experts.
He received his MBA from University of Toronto, a Master's and a Bachelor's in Management Science from Tokyo University of Science.
---
Cybersecurity Research Session
Dr. Selcuk Uluagac
Florida International University
Dr. Uluagac is currently an Associate Professor in the Department of Electrical and Computer Engineering at Florida International University (FIU), where he directs the Cyber-Physical Systems Security Lab (CSL). Before FIU, he was a Senior Research Engineer in the School of Electrical and Computer Engineering (ECE) at Georgia Institute of Technology. Prior to Georgia Tech, he was a Senior Research Engineer at Symantec. Dr. Uluagac earned his Ph.D. from the School of ECE at Georgia Institute of Technology. He also received a M.S. in Information Security from the School of Computer Science at Georgia Institute of Technology and a M.S. from the Department of Electrical and Computer Engineering at Carnegie Mellon University. His research is on security and privacy of Internet of Things (IoT) and Cyber-Physical Systems (CPS) and has hundreds of scientific/creative works in practical and applied aspects of these areas.
In 2015, Dr. Uluagac received a Faculty Early Career Development (CAREER) Award from the US National Science Foundation (NSF), which is NSF's most prestigious award in support of junior faculty who exemplify the role of teacher-scholars through outstanding research, excellent education and the integration of education and research within the context of the mission of their organizations. In 2015, he was awarded the US Air Force Office of Sponsored Research (AFOSR)'s Summer Faculty Fellowship. In 2016, he received the Summer Faculty Fellowship from the University of Padova, Italy.
He is an active member of IEEE (senior grade), ACM, and, USENIX and a regular contributor to national panels and leading journals and conferences in the field. Dr. Uluagac has served on the program committees of top-tier security conferences such as IEEE S&P (Oakland), NDSS, ASIACCS, ACSAC, inter alia. He was the General Chair of ACM Conference on Security and Privacy in Wireless and Mobile Networks (ACM WiSec) in 2019. He was the TPC Co-Chair of IEEE Conference on Network Function Virtualization & Software Defined Networks in 2016 and 2017 and IEEE International Workshop on Cyber-Physical Systems Security (CPS-Sec) in 2014-18, which he initiated. In 2018, he co-chaired the National Institute of Standards and Technology (NIST)'s National Initiative for Cybersecurity Education (NICE) Annual Expo and Conference, which is one of the largest events in the cyber education domain.
Currently, he serves on the editorial boards of IEEE Transactions on Mobile Computing, IEEE Communications and Surveys and Tutorials (network security lead area editor), Elsevier Computer Networks, and served between 2015-2020 as an editor at Elsevier Journal of Network and Computer Applications. He has been very active in external funding efforts during his tenure at FIU on IoT and CPS security topics, and successfully been awarded competitive grants by US NSF, Department of Energy, Department of Labor, Air Force Research Lab, Cyber Florida, Trend Micro, and Cisco. He is very entrepreneurial and visionary with his research. Many of his research ideas have resulted in patents. And, he is very active in the local and national community; his research has been covered by different media outlets (TV, online, published) numerous times. More information can be obtained from http://nweb.eng.fiu.edu/selcuk/
---
Dr. David Schuster
San Jose State University
David Schuster is an Associate Professor of Psychology at San José State University and Principal Investigator at the Virtual Environments, Cognition, and Training Research (VECTR) Lab since 2013. He earned a Ph.D. in Psychology from the University of Central Florida, specializing in Applied Experimental and Human Factors Psychology. Dr. Schuster's research centers on understanding individual and shared cognition in complex environments. He has conducted research in domains such as aviation, transportation security training, and military human-robot interaction. Currently, he is interested in how complex sociotechnical systems support or hinder people, with a particular focus on decision making among cybersecurity professionals. In 2015, he was awarded a five-year NSF CAREER award to study human cognition in cyber defense. Since that time, he has been awarded supplemental scholarships from NSF to fund undergraduate research training and has mentored over 50 students in his lab. He was a co-investigator of an NSF-funded technology pathway program, which led to a minor in computer programming for CoSS majors. In 2017, he received the Early Career Investigator Award from the SJSU Research Foundation.
He is faculty in the MA Program in Research and Experimental Psychology and the MS Program in Human Factors/Ergonomics. He teaches graduate and undergraduate courses in research methods and statistics, as well as undergraduate human factors and general psychology.
Dr. Schuster has co-authored over 30 papers in journals, edited books, and conference proceedings. His work has appeared in Ergonomics and Human Factors. Dr. Schuster has presented at the IEEE Conference on Cognitive Methods in Situation Awareness and Decision Support and the NATO Information Systems and Technology Panel Symposium on Emerged and Emerging Disruptive Technologies. He is a member of the Human Factors and Ergonomics Society.
---
Diversity, Equity, Inclusion (DE) at Trend Micro – Be Your True Self
Lauren McKenna
Global HR Director, Trend Micro
Lauren has been working for Trend for over 10 years in Europe and in the United States. She is a highly experienced Global Human Resources professional with over 20 + years experience gained in the Technology industry and multi-national corporations work across many diverse business environments and who works at the heart of the business. She is passionate, results driven and an accountable individual with the drive and commitment to make a real contribution in the business on managing large change projects, Diversity, Equity & Inclusion (DEI) Strategy, Talent Management, Organizational Design, Total Reward, M&A, and Learning & Development.
---
Tina Honore'-McGaskey
Director of Diversity for Girls in Tech Dallas and Manager, Customer Experience Team, Trend Micro
Tina Honoré-McGaskey is a Cyber Security Professional and has worked in the IT field for over 25 years. She's held many roles at various companies and is currently the Manager of the Customer Experience Team where she leads a diverse team of tech professionals created to help focus on Trend Micro's commercial clients and ensure that they are informed, educated and their overall experience with Trend products is a great one. Tina is also one of the Program Leaders for Trend Micro CPITS, a successful Certification Program in IT Security that continues to help close the gap with hiring females in the IT field.
She was recently appointed as the Director of Diversity for Girls in Tech Dallas (a global non-profit focused on the engagement, education and empowerment of women who are passionate about tech.) and has been an active member for the past 8 years. She has continued to recruit more females into rewarding technology fields through various networking, career fairs & mentoring programs. She hopes to continue spreading cyber security awareness and help open as many doors for females in tech as possible. She is an active member of the National Black MBS Association as well as ICMCP (International Consortium of Minority Cybersecurity Professionals).
---
Cyril Lim
Senior Director of TrendLabs, Trend Micro
Cyril leads a global team of threat researchers responsible for threat hunting and 24×7 response. She started in software development for 3years with a Japanese company then built her career in cybersecurity with TrendMicro for 22+ years now. Cyril graduated with a Bachelor's Degree in Computer Engineering and Masters in Business Administration. She loves to read and spend time with her husband and 2 kids on her free time.
Sharda Tickoo
Technical Function Head at Trend Micro, India
Sharda Tickoo leads the Technical function at Trend Micro, India. She has over 17 years of experience in cyber security domain. She has helped enterprises across various sectors design and implement cyber security controls and technologies. In her current role she leads and mentors the team of presales consultants and post sales Technical Account Managers. She consults organizations to identify and highlight cyber security gaps in their environment and advises best possible way to fill the gap and stay secure. She also works closely with BU leaders and product management teams to decide and strategize go to market plans for Trend Micro security portfolio.
---
Hederlyn Martinez
Technical Associate, Trend Micro US
Hederlyn is a Girls in Tech mentee and Women Who Code member possessing an avid interest in existing and emerging technologies in digital environments. Interned and graduated from TrendMicro Certification Program IT Security (CPITS) and currently a technical rotating associate at TrendMicro.
Cybersecurity Career Awareness and Threat Landscape Presentations
Lydia Chan
College of Professional and Global Education, San Jose State University
Lydia Chan is a dynamic manager who has over 20+ years of experience in the high tech industry. She started as a process engineer and finished as a sales manager in a customer facing role at Intel. In between, she had positions in sales operation, marketing, analyst relations, factory planning, capital equipment purchasing, and even video games performance tuning! She felt honored to be a part of the creation team in Apple projects such as Apple TV, Macbook Air, etc. She was a recipient of Intel's Design Win Innovation award and Intel's top sales achievers award.
Her multifaceted experience enables her to be creative and innovative in resolving customer issues or business processes inefficiencies. More importantly, this rich experience satisfies her love of life long learning, and gives her a sizeable network of friends and colleagues. After she retired from Intel, she started another transition at San Jose State University as a business development and external relations manager. Artificial intelligence, data analytics, and neuroscience/brain cognitive functions are her latest exploration.
---
Jon Clay
VP of Global Threat & Communication, Trend Micro
"The threats today are unique for each victim and move from endpoint to data center, and as such organizations need to shift the paradigm of multiple vendors to a single, connected threat defense model to improve detection and visibility across their network." Experience: 20+ years in cybersecurity, 30+ in technology Specialty: Cyber threat landscape and advanced detection technologies
Education: BS, Electrical Engineering w/ emphasis on Computer Engineering, Michigan State University
Jon Clay is responsible for managing marketing messages and external publication of all the threat research and intelligence within Trend Micro as well different core technologies. As an accomplished public speaker with hundreds of speaking sessions around the globe, Jon focuses on the threat landscape and the use of big data in protecting against today's sophisticated threats. Jon has held roles within Trend Micro as a Sales Engineer, Sales Engineering Manager, Training Manager and Product Marketing Manager for SMB prior to taking over as Director of Global Threat Communications. Jon is also a volunteer speaker for the Trend Micro Internet Safety for Kids and Families program. This experience has given him a broad technical background and understanding of the security requirements of businesses as well as an excellent understanding of the threat landscape. In his spare time he enjoys fly fishing & fly tying, golf, tennis, and spending time with his family. Expert in Action See Jon's Monthly Threat Webinar series and his weekly roundup blog. Chat with Jon on Twitter (@jonlclay)
---
Eman El-Sheikh, Ph.d
Associate Vice President at the Center for Cybersecurity, The University of West Florida
Dr. Eman El-Sheikh is Associate Vice President at the University of West Florida. She leads the Center for Cybersecurity and is also Professor of Computer Science at UWF. Eman has extensive expertise in cybersecurity education, research and workforce development. She received several awards related to cybersecurity education and diversity, and was recognized among the 2020 Women Leaders in Cybersecurity by Security Magazine. Dr. El-Sheikh leads several national and regional initiatives, including the National Cybersecurity Workforce Development Program and the Southeast Regional Hub for the National Centers of Academic Excellence in Cybersecurity.
Eman received numerous grants to enhance cybersecurity education, workforce development and capacity building. She launched the Cybersecurity for All® Program to enhance competencies and hands-on skills for evolving cybersecurity work roles. The program was recognized among the 2020 Innovations in Cybersecurity Education. Dr. El-Sheikh teaches and conducts research related to the development and evaluation of Artificial Intelligence and Machine Learning for cybersecurity. She has published several books, including most recently, Computer and Network Security Essentials by Springer Publishing, over 80 peer-reviewed articles and given over 115 invited talks and presentations. Eman also co-founded the Florida Women in Cybersecurity Affiliate. She holds an M.S. and Ph.D. in Computer Science from Michigan State University.
---
Cybersecurity Challenges and Career Opportunities
Ed Cabrera
Chief Cybersecurity Officer, Trend Micro
Eduardo Cabrera is responsible for analyzing emerging cyber threats to develop innovative and resilient enterprise risk management strategies for Fortune 500 clients and strategic partners. Before joining Trend Micro, he was a 20-year veteran and former CISO of the United States Secret Service with experience leading information security, cyber investigative, and protective programs in support of the Secret Service integrated mission. He started his career investigating transnational cyber criminal groups targeting the financial and retail sectors. He proudly served on the Presidential Protective Division for President George W. Bush before transitioning to lead cyber forensic operations in support of Secret Service large-scale data breach investigations.
He served as the Secret Service Strategic Advisor to the DHS National Cybersecurity & Communications Integration Center (NCCIC) where he led an interagency effort to share real-time actionable threat intelligence with Information Sharing and Analysis Organizations (ISAO) and critical infrastructure partners. He is a guest lecturer at New York University Polytechnic Institute, Computer Science and Engineering Department and was a contributing subject matter expert on law enforcement; cyber security strategy and policy; and computer forensics and network intrusion incident response for the 2014 Risk and Responsibility in a Hyperconnected World; 2012 Homeland Security Advisory Council Task Force on Cyber Skills Report; and 2012 Insider Threat Study: Illicit Cyber Activity Involving Fraud in the U.S. Financial Services Sector. He is a Certified Information Systems Security Professional (CISSP) and a Certified Information Systems Auditor (CISA). Twitter: @EdECabrera
---
Stacey Wright
VP of Cyber Resiliency Services, Cybercrime Support Network
Stacey A. Wright, CISSP, is Vice President of Cyber Resiliency Services for Cybercrime Support Network (CSN). Stacey leads projects to assist the U.S. Cybersecurity and Infrastructure Security Agency (CISA) in developing the cyber domain for the National Information Exchange Model (NIEM) and the development of the international Cyber Classification Compendium. She works with multiple partners and stakeholders around the world, particularly in state and local governments, and law enforcement.
Previously, Stacey was the Directors of Partnerships and Cyber Intelligence at the Multi-State Information Sharing and Analysis Center (MS-ISAC) at the Center for Internet Security (CIS), where she developed partnerships and produced timely, actionable, unbiased state, local, tribal, and territorial government and elections-focused insight. In addition, Stacey teaches two graduate cybersecurity and threat intelligence courses at the State University of New York. Prior to her employment at CIS, Stacey was the Cyber Intelligence Analyst for the Federal Bureau of Investigation (FBI) Albany Division, where she was responsible for coordinating the local cyber intelligence program and served as the FBI's liaison to the MS-ISAC. Stacey began her career as an Information Systems Specialist for the Cambridge, MA, Public Safety departments. She received her Bachelor of Science in Criminal Justice from Northeastern University and her Master of Business Administration from the University of Massachusetts, Boston. She is a formally trained Intelligence Analyst and a national speaker on cybercrime.
---
Rodel Villarez
Senior Project Manager, Trend Micro
Rodel is another passionate individual working for Trend Micro for almost 16 years , He is currently a Senior Project Manager and holds previously various position in the company. He started as a technical trainer and move up on the corporate ladder. Teaching and Technology is his passion. He is a holder of two master degree both in Engineering and Education. A certified Google Educator, Microsoft Professional and Trend Micro Security Expert. Currently He is working to educate the teachers from geographically challenge location in the Philippines regarding the importance of Cybersecurity and helping University on their curriculum design to minimize the gap between the academe and the university.
---
Anthony Pinto
Professor, University of West Florida
Anthony teaches graduate and undergraduate courses in Computer Science and Software Engineering. He joined the faculty in 2002 after he earned a M.S. in Computer Science from UWF. Anthony, who spent 20 years on active duty with the U.S. Marine Corps, also has several years experience and training in business-related software development and cybersecurity.
Anthony coordinated UWF's successful effort to be designated a National Security Agency/Department of Homeland Security National Center for Academic Excellence in Cyber Education. In addition, he is heavily involved in efforts to enhance Cyber Security education in the area including being a Mentor for CyberPatriot, Cyberthon as well as the Facility Advisor for the UWF Cybersecurity and coach for the Collegiate Cyber Defense Competition. Anthony's professional training includes Wireshark Advanced Network Analysis and Blackhat Certification in Hacking by the Numbers Bootcamp, Hacking by the Numbers BlackOps, pen testing with Kali Linux, Locking Down Linux and Adaptive Red Team tactics.
---
Zarmeena Waseem
Director, National Cyber Security Alliance
Zarmeena Waseem is a passionate leader. She considers herself a global citizen and believes in intersectional advocacy. She sees cybersecurity as a tool to empower people to protect themselves, their information, their communities. She took a leap into cybersecurity because there is a new challenge to learn about and teach about every day.
Zarmeena has the heart of an educator, so she started her journey by creating the Security Awareness and Education program for The George Washington University and moved on to be an Information Security Trainer at The New York Times before joining the National Cybersecurity Alliance.
Contact Us
For inquiries about Cybersecurity Education for Universities, if you are interested in partnering with us, or if you belong to a school or an organization that would benefit from cybersecurity enablement workshops, contact us at csr_education@trendmicro.com.
---