---
By Richard Medugno
One of the amazing things about the Internet Age is that you can learn something new virtually every time you log on. Recently, I found out about trolls – people who post inflammatory messages in online communities just to get other unsuspecting people upset. According to Wikipedia, these characters and this misbehavior called "trolling" has been going on from almost the beginning of the Internet.
A high-tech form of grave desecration
So just when you think you've seen the worst in human behavior, some new kind of horror pops up to take advantage of our latest technology and shock you. Exhibit A: In a recent case in the United Kingdom, a 25-year-old "troll" wrote abusive things on the tribute web pages for dead children. The poor parents and family members were exposed to a high-tech form of "grave desecration."
Fortunately, the offender, who is afflicted with Asperger's Syndrome, was caught and sentenced to 18 weeks of jail time. The local authorities and cyberbullying experts hope that this punishment will discourage others from participating in this despicable activity.
Major driving force behind trolling and cyberbullying
Experts suggested that "the presumption of anonymity" is a major driving force behind trolling and cyberbullying. However, there is no guarantee of anonymity online, as I've reminded Fearless Web readers in previous blogs.
Oddly enough, I was exposed to another form of trolling on Facebook when a friend of mine posted something about a recent political debate. He took exception to a politician's "extreme" position. A number of my friend's Facebook connections commiserated, including myself. Then up popped a "friendly" troll, posting a 12-paragraph screed in defense of the extreme politician. The post was filled with falsehoods, strawman arguments, and ad hominem attacks. It's one thing to be a contrarian, but it quite another to be an Internet troll.
My blood started to boil because of the troll's offensive and dishonest statements. I really wanted to take to my keyboard and give him a virtual smack-down. Then I realized that this guy had no interest in an online dialog or exchange of ideas. Rather, he was obviously interested only in disrupting a forum to see how many people he could upset. In other words, he probably gets some perverse joy from a digital p__ing contest, where there's no room for civil discussion. And you know,  because he's in cyberspace and not in the same room, he probably wouldn't have the courage to be so obnoxious face-to-face.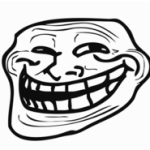 How to respond to a troll
So how should one respond to the inflammatory statements made by a troll? Two steps: 1) recognize when someone is trolling and 2) ignore it. For support of this response, I turned to what Wikipedia says about trolls:
Experienced participants in online forums know that the most effective way to discourage a troll is usually to ignore it, because responding tends to encourage trolls to continue disruptive posts — hence the often-seen warning: "Please do not feed the trolls."
Therefore, I responded to my friend's troll's comment with the acronym DNFTT (do not feed the trolls). This brought me a surprising sense of satisfaction, because I both had answered the troll while at the same time advised the community not to engage with him – not to stoke the fires. And from then on, I was able to ignore any further discussion on the said topic.
Now, I realize if you're a parent and your child is being tormented by a troll or online bullying, ignoring the offending party or people may not be an adequate response. There often is no simple answer to these cases that involve juveniles. Check out our Internet Safety for Kids & Family blog for advice on how best to handle cyberbullying.
I have achieved a certain amount of peace knowing that from now on I probably will never get sucked into online trash-talking war again. From now I'll just take a deep breath, count to ten, and just type "DNFTT." Join me, won't you?
Oh, check out this Saturday Night Live skit from last weekend on this very topic. It's PG-13 but quite amusing and appropriate for this blog.
I work for Trend Micro and opinions expressed here are my own.
Authors